Blog 31: Are we there yet?
In the end, it didn't matter that Bill could no longer wipe up or lop off branches or bring the garbage bins into their places by the side gardens. With Bill pottering along beside me, I could manage all of those tasks without too much trouble. The loss of Bill's ability to mow the lawn and to drive the car, however, had much more impact on our lives. This was not only because arthritis prevented me from pushing the mower, but also because I had never learnt to drive a car!
It was both strange and scary, then, to watch these competencies disappear from Bill's brain. With mowing, the loss took place over a couple of months in the middle of 2010. It followed the usual pattern. Firstly, Bill was able to mow the lawn without any problem. Then he needed my help to fill the mower with petrol. Then he had trouble starting the mower, and so on.
These hiccups, however, were not enough to stop Bill handling the mowing. Together, we could overcome all those minor problems. Remember, though, back in BLOG 20, how we talked about the fact that Bill could not imagine the future and, in BLOG 21, how we understood that he could not even imagine the future two minutes ahead? It was the loss of that ability to imagine that eventually put a stop to it.
As it happens, our back lawn abuts on to a canal. At the time that I'm writing about, Bill would always start off mowing at the top of the lawn. Then, concentrating on keeping the mower on track, he would push it along the fence line until he reached the edge of the canal. But, once at the canal's edge, he would have to make a sharp, right-hand turn. The trouble was he didn't know that he had to make that turn until he was almost on top of the spot. At that point, with a great deal of anxiety and apprehension, he would swing the mower around, barely managing to steady himself, and then continue on his shaky way along the length of the concrete strip. Then the process of fear, swinging and steadying would be repeated as he made another right-hand turn at the pathway.
It was a nightmare for me to have to watch this performance and more than a nightmare for Bill to have to do it. And, in the end, it was just downright dangerous. When we called a halt to it and hired people to mow the lawn, Bill made no protest. And, when I had artificial turf laid down at the end of 2010, he showed little interest in it. I think that, by that stage, Bill had forgotten, altogether, that he had ever, at any time, looked after a lawn.
Our back yard at sunset. The photo shows the fence line, the canal edge and the pathway.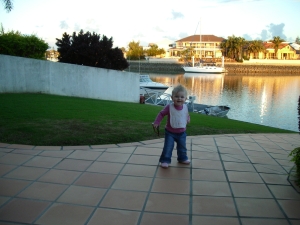 The decline of Bill's ability to drive a car followed a similar pattern. At the time, I didn't understand about Bill not being able to imagine the future but, one night, as we were driving home, he said:
Oh! Is this the right way?
He'd driven along that road hundreds of times but he seemed to have forgotten where he was. That made him anxious so, from that point on, we didn't drive at night. Then for the same reason, we restricted ourselves to driving to the shopping centre. Finally, one day, as we were making our way to the shopping centre, I said:
Turn up here!
I meant for him to turn left at the next round-a-bout up the road but, instead, he turned into the driveway that was to our immediate left.
The matter of Bill driving was all becoming too nerve-wracking and the next time that we needed to go out, I called a taxi.
But, what about this one? Bill asked, pointing to the garage.
No, we'll go in the taxi! I answered.
And Bill got into the taxi without further ado and he never drove a car again.
……………………………
Of course, other things about Bill's driving had been a worry before I was forced to make that final decision. His use of blinkers, for example, was inconsistent and he no longer took notice of speed signs. When we were driving, I had to keep my eye out for those things myself, prompting him when necessary with: "40! 40!"
As well, there was the fact that, if a problem arose while he was driving, Bill no longer had the ability to cope with it. Coming home from Sydney via the New England Highway in August 2009, for example, an accident near Ipswich caused us to take a wrong turn-off and we became lost on Brisbane's north side. Before his illness, Bill would have been able to get us on the right track again without any trouble. Now, he couldn't. We spent a couple of hours unsuccessfully trying to find a way out. Eventually I called a cab and asked the driver to guide us home.
Though these things happened and they were a worry, it wasn't these happenings that stopped Bill driving. What was the major worry, both for Bill and for me, as I have already said, was Bill's inability to imagine the future. In the end, it was the anxiety caused by that inability that made us cry: Enough!
…………………………
Throughout 2011, after Bill had given up driving, kind friends would sometimes take us out in their cars. As we went along, Bill would direct them, saying:
"Slow! Slow! Now you've got to go round here! Slow!
Careful! Careful!
Now, up here, you go round! Go round! (Hand movements all the time.)
Good! ….. and so on and so on.
Poor drivers!
But, by the end of 2011, when Ed and Sonia took us driving to see Christmas lights, Bill sat quite stiffly in the front seat of Ed's car, taking no notice of Ed's driving and showing no sign that driving had ever been important to him.
His ability to drive had slipped away along with almost every other skill that he had ever learnt.