Though, according to one doctor, the "turns" described in Blog 16 were more akin to epilepsy than to mini-strokes, they had the same effect as mini-strokes in that they always contributed to noticeable loss of brainpower. Ultimately, however, not being able to measure, or handle money, or write sentences, did not cause us too much angst.  I could do all those things for Bill that he now couldn't do and, if I didn't have the skills, we were always able to pay someone to do the job for us.  The ongoing loss of spoken language, however, caused Bill much more pain and he would say, quite often: I wish I could talk to people.  That loss could be both isolating and embarrassing and sometimes, just downright agonising for him.  But there was another loss that caused him great stress that I want to tell you about. And that loss was the loss of his ability to tell time.
Telling time is rather a complex process. These days we have analogue, digital and twenty-four hour time to cope with, and a clock face, such as the one below, can be read as two-thirty, am or pm, as half-past two, am or pm, or as fourteen thirty.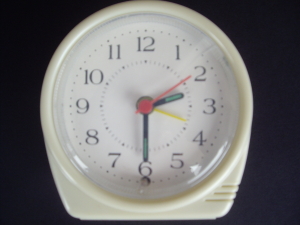 As well, there is a confusing second hand spinning around this clock face, and another to tell you at what time the alarm will sound.
By the end of 2009, Bill had lost, completely, the ability to tell time in any of these ways, except for time by the hour, using the analogue clock.  We went through our usual procedure of trying to relearn the learning.  We bought extra clocks and put them all around the house so that Bill would see them every few minutes.  We brought clock faces down from the toy room, moved the hands and practised telling time by the hour and the half-hour.  I brought time phrases into our conversations:
"It's nine o'clock," I would say, pointing to the clock.  "We'll get ready to go shopping."
But, as I've said before, it always ended up the same way.  The learning would come back for a short time but, before long, it would be gone completely, never to return again. And, eventually, for Bill, even time by the hour had disappeared.  His ability to tell time had gone into that big, black hole that had claimed, already, all his other literacy and numeracy competencies.  Unlike the loss of the abilities such as reading calendars and maps, however, this loss of ability to tell time had negative effects on our lives that disrupted and upset them.