Blog 24: The Man in the Mirror (Pt 2)
There is a thin line between sanity and insanity, so they say.  Yet, I never did think of Bill as being insane.  To me, it seemed that his brain had just "slipped" a bit, had teetered across that thin line for a time and I could, thankfully, mostly understand why he was behaving as he was. If you take a look at this second picture of those glass gates, for example, you can just see me, in pink skivvy, reflected in the glass.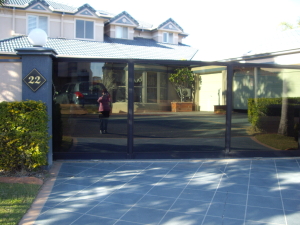 And you can see how difficult it is to tell, looking at the photo, whether I am a reflection or an actual part of the front-yard scene inside the fence. It is true that Bill, at that stage, was way beyond debating whether it was reflection or reality, but you can see how tricky it must be for someone who no longer has the discernment. Bill just saw what he saw …. the person coming to say "Hello!" …. and he acted the way he did because, to him, those people were real.
It was easy for me, then, to comprehend why Bill was talking to his reflection.
It was not so easy, however, to get my head around the fact that he now preferred to urinate, not in the toilet bowl any more, but in the corner of the garage. I knew that it was no good scolding him and that I just had to play it through but I also knew that there had to be a good reason for the changed behaviour.
It was a month or more before I found out why it was happening. The discovery came about because I noticed that Bill was gently tug-tug-tugging at the leg of his shorts. I took him by the hand and led him to the door of the bathroom.
"Do you want to go to the toilet?" I asked.
We were standing at the door looking at this scene: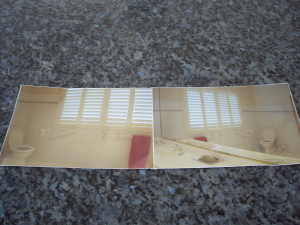 reality                     reflection
"Yes," he said.  "I do want to go to the toilet. But, which one do I go to?"
And he started walking toward the reflection.
…………………………
Now, you would think that my understanding of why the problem occurred would lead naturally to a solution.  I have, in fact, a little book, a handbook for carers of clients with dementia, which indicates that a solution can be found. The carer, it urges, who finds their client urinating in the cupboard, should take the client to the toilet bowl and say, gently but firmly:
"Now, Fred, you mustn't wee in the cupboard. You need to wee in the toilet here. Do you understand, Fred? That's what you must do from now on."
Well, that may have been all right for Fred. Maybe he had a different type of dementia. But, for Bill, as we've seen before, it was not ever that simple. Bill might remember those instructions for a couple of days, but after that, those two toilets were always going to cause him trouble and send him scurrying for the corner of the garage.
It was the same result when I hung a queen-sized sheet over that bathroom mirror. Bill might think for a day or two that the mirror, and that other toilet, weren't there. But, in the end, he always knew that, if you lifted that sheet, even just a little, you would see them.
Over that time, towards the end of 2010, it happened as it often does when you are toilet training a two-year-old. If I got lucky, I could read the signs and get Bill to the toilet before he made it to the garage.  Mostly, however, the problem did not cease to be a problem until we managed to get Bill into incontinence underwear months later. But that, as they say, is another story.