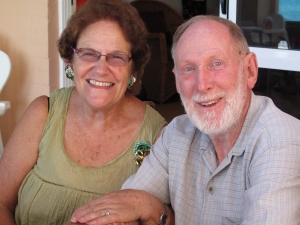 The World of Dementia
On 5th August, 2012, The Sunday Mail newspaper, in its Body and Soul section, headlined a report with the words:
Dementia: 1600 new cases a week.
It went on to say that:
Deaths from dementia have risen by 140 per cent in recent years.
My husband, Bill, was part of that on-growing epidemic and one of those death statistics and this site tells the story of his last years as he battled with that disease. It is his story, told through the eyes and mind of his wife who cared for him until the end and I, his wife, am telling it because I want the world to become more aware of the effect that dementia has on its victims.
And, who knows? Maybe Bill's story will help some other carers comprehend what their loved ones are experiencing. Maybe it will help the loved ones to understand how the disease may affect them. Maybe it will help us all
to view the illness with greater insight and compassion.
So, come with me on this extraordinary journey …… this extraordinary journey of discovery ………