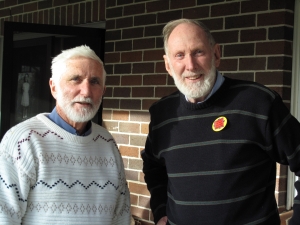 Dependable, faithful, skillful, caring, a thorough gentleman , a teacher …… Bill was all of these and more.
Born in Bankstown, Sydney, Bill and his brother, Pat, spent their young years in the strong, Christian home that their mother had provided for them …… their father having died a Prisoner of War in Sandakan, Borneo, in 1945.
In 1962, Bill married the love of his life, Fay, and remained married to her for almost 50 good years. After backpacking around Europe for a year, the couple, and two-year-old David, moved to Papua New Guinea where Bill passed knowledge of his carpentry trade on to teenagers from all over Milne Bay and the PNG Highlands. The family spent eleven years in PNG and, over that time, two more sons, Ian and Matthew were born.
It was in PNG that Bill first joined a Rotary Club. He remained a member of Rotary Clubs until his death, enjoying all activities, particularly those that took him back to PNG to help build classrooms and health clinics.
Bill was also a valued member of The Australian Institute of Construction and Master Builders, held a Master of Education degree and was a Justice of the Peace.
On their return to Australia, Bill's family settled in Brisbane and Bill gained employment at Yeronga TAFE, where he worked for seventeen years, retiring in 1995.
Bill's goals, on retirement, were to build his dream home, to focus on his ever-growing family ….. now extended by three beautiful daughters-in-law and four lively granddaughters …… and to travel a bit …. all goals that he achieved.
Wherever he went, kind, caring and often witty person that he was, Bill made friends.
On our pontoon, there is a boat that Bill built but never sailed. We did not know it at the time, but dementia was eating at his brain even then. It has been a sad end for one who embraced life so fully.