In hindsight, I should have known that Bill was not strong enough to do that sight-seeing trip. I should have requested that we be able to go to our hotel room to rest, as did another friend of ours.  But I didn't.  We did the tour, saw the museums and the gardens, marvelled at all that Chiang-Kai-Shek did over his life and did not get into our hotel room until 2pm.  By that time, like everyone else, we were exhausted.
You can see how tired Bill was from this photo: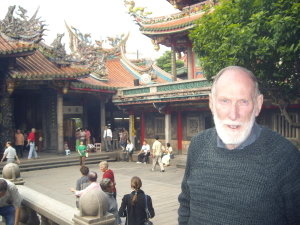 So, as soon as we were in that hotel room, Bill and I went to bed and fell into a deep sleep.  The trouble was we only had three hours to sleep.  We had to wake at 5pm to get ourselves ready to board the bus that would take us to the Airport to catch our Taipei to Brisbane flight.  I woke at five, without any problem, to the beep, beep, beep of my alarm clock, but when I woke Bill out of his deep slumber, I could see that he did not wake up properly.  He woke up and he was walking but he was not in our world. He was in a dream world.
"We have to have a shower and get ready to go," I said.
"You go," he answered. "I've got to stay here and work."
"No! No!" I replied. "We've got to catch a plane. We've got to go home to Brisbane."
"Well, you go," he said, quite reasonably, quite politely. "I don't want to go any more.  There's work to be done here.  I just want to stay here and work."
He started straightening the sheets and making the beds.
"But you can't stay here!" I cried.  "You have to come. You're not allowed to stay here."
"Look!" he pleaded, in desperation, grabbing me by the arm and pushing me towards the door,  "You go!  I don't mind if you go! I'm happy for you to go! But I don't want to go! I just don't want to go any more!"
And, before I knew it, I was outside the door and the door was slammed shut firmly behind me.
…………………..
I stood outside the door, pondering what to do.  The room keys were both in the room.  Should I go downstairs and ask them for another key, I wondered?
As I stood there, mulling, a hotel employee came by.
"I'm sorry," I begged.  "I'm locked out of my room.  Do you think you could open the door for me?"
What a shock the poor man got when he pushed the door open and found Bill standing angrily on the other side.  He knew immediately that he was in the middle of some sort of domestic incident.
"Thank you so much," I shouted after him, as he scurried off and I re-entered the room.  "Thank you."
……………….
Once in the room, I started into pleading again:
"Please, Bill, you've got to understand ……" I begged. As I was saying that, I was interrupted, mid-sentence, by our tour leader.  She had come to the open door to tell us that the bus was ready to leave and we needed to come downstairs, with baggage, immediately.
"I can't get him to come out of the room," I said, anxiously.
"What would you like me to do?" she asked.
"Would you ask Pat and Clive to come up, please?  They might be able to help," I answered.
Pat and Clive duly arrived.
They tried and tried, talked and talked, begged and pleaded, but Bill wasn't budging and Clive was almost thumped for his efforts.
Pat explained that, if we missed this plane, there was no other flight to Brisbane out of Taipei for four days.
"We'd better plan to stay," she said. "Clive and I will go downstairs to arrange for us to extend.  We'd call a doctor for you, but we have been told that doctors in Taipei do not make house calls to hotels.  The sick person has to visit the doctor at the medical centre or the hospital."  She moved towards the door. "We won't be long," she added. "We'll just be leaving you for a few minutes."
 ………………..
As soon as Pat and Clive had departed, Bill said to me, quite calmly:
"Anyway, I'm going to a much, much better place."
I was a bit fearful that he was talking about Heaven.
"Well, why don't you come with me to Brisbane?" I queried.
"That mightn't be a bad idea!" he rejoined.
"Well, can you find the way to the lift for us?" I asked, putting his hand on his suitcase handle and waiting for him to go out first, just in case he shut the door on me again.
"I don't think I can," he said, "But I can follow you."
And, before you could say Taipei to Brisbane, the four of us were in a taxi and away.