Blog 12: Still Intelligent, Still Sociable
It's a weird thing, this condition called Aphasia.  There is so much loss of brainpower on the one hand yet, on the other, the person remains his intelligent, old self.  Berens tells us, in her Aphasia Guide, that though people with aphasia have "difficulty with many aspects of communication (i.e. naming objects, writing words in a sentence and reading) aphasia does not affect intelligence."  She goes on to say that "people with aphasia still have thoughts, opinions and emotions, can still solve problems, can still hear and see and can still make decisions" (p 14).
That's how it was with Bill in 2008.  He was largely innumerate and illiterate and could not read maps and calendars but, with my help, he was still able to function in the world and was still, in many ways, intelligent.  When we were driving out to Camooweal in May 2008, for example, with Bill at the wheel, we turned a sharp corner and were surprised and excited to see a flock of six emus crossing our path.
We were on a deserted, outback road, with nothing but long grass and gum trees on either side.
"Stop!" I cried.  "I want to take a photo!"
"You've got to hurry!" Bill was quick to answer.  "We can't stop here.  Someone might come round!"
This is the photo that I took.  Can you spot the emus?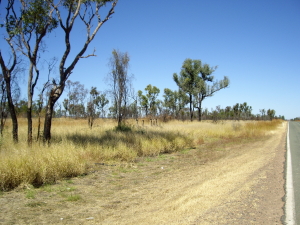 Bill was right, of course.  Though it felt as though we were the only people on the planet, someone certainly might have driven around that corner at speed and collided with us.  Bill's brain was still clever enough to understand that and to predict that possibility.
On another occasion, Bill needed to lower the height of a table.  He knew that he could not measure but he could see how much the table leg needed to be shortened.  He made himself a block of wood the size of that amount, held it up against the first leg and cut that much off.  Then he repeated the exercise for the other three legs and the table was lowered perfectly.  I was amazed at the way that he did it.  There was no doubt in my mind that there was still intelligence there.
As well, Bill was still sociable and, though he could no longer carry on a decent conversation, he found himself various props that helped him to participate socially.  He would, for example, take guests on a tour of the house.  On the way, he would stop and talk about each of the pictures on our walls.  Or he would open cupboards and create conversation about their contents:  "And there's this, and there's this, and there's this," he would say, boring poor visitors out of their minds as he pointed to a book or a blanket or some unused vases.  Sometimes, he would just take his friends down on to the pontoon and talk about the view.  On other occasions, he would sit with them and take them through a photo album.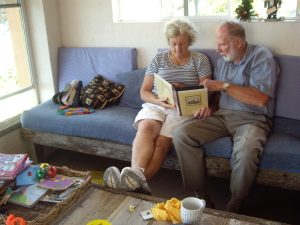 No matter what, whenever people would come, or we would visit them, Bill was as welcoming and
sociable as he had always been.