As our lives moved into 2009, we did as doctors advised us to do and planned to pack as much living into the year as we could.  With friends, we decided that we would visit Adelaide in March, Canada and Alaska in May, Sydney in August for Bill's 70th, which I've already told you about, and Bargara, Qld, for Christmas.
As well, Ian and Kim and our grandchildren were coming to stay over Easter and my niece and her family, who reside in Belgium, were planning to visit in July. With all our other social commitments still in place, it was to be a busy year.
Though Bill was not always strong, he coped with the Adelaide trip and the Alaskan one, without too much trouble.  He felt the cold in Alaska and sometimes opted to go back to bed rather than to stand out in the weather taking photos of the calving glaciers.
It took me back to 1964 when we were touring England in a mini-van in February.  One night, while we were sleeping, snow fell and when we awoke in the morning, there it was, all over the ground.  Bill was so excited because we had never seen snow before. He raced outside and started making a snowball.  He rolled the snow up as if it was turf ….. rolled and rolled ….. racing back to warm his hands around the boiling kettle, which was bubbling away on our outside gas stove.
"Come inside!" I whinged.  "It's too cold!  I can't stand it out here!"
"No! I've got to do this!" he shouted, as he rolled and warmed for another five minutes.
In 1964, it was me whinging, while he was squealing with delight.  In 2009, the roles were reversed.
I say that we made it through the Alaskan trip without too much drama, but that is only almost true.  We flew back to Brisbane from Canada, you see, via Taipei, the capital city of Taiwan. The flight from Vancouver to Taiwan took twelve hours and the flight from Taiwan to Brisbane, nine.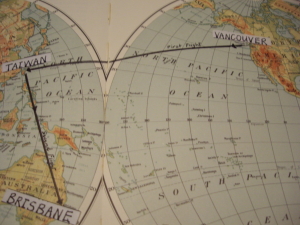 We coped with the twelve-hour Vancouver to Taiwan trip quite well and landed in Taipei at five o'clock in the morning.  Then, and this is where I think the whole thing went wrong for us, instead of putting us into our hotel rooms at that time, the tour organisers opted to put us on a bus and take us around Taipei to see the sights.