You have seen the battle that I had to get Bill to change his clothes and that it was a "shirt off, clean shirt on in a hurry" business, rather than a "shirt off, shower, clean shirt on" affair.  And you'll understand that I wrote it that way because that was the truth of the matter. Bill just wasn't having showers any more.
It all started when we were in Canada in May 2009.  All the showers in the hotels over there were different from those that we had in our home here in Australia.  They were different and their workings were quite complicated.  You could accidentally wash the whole of the hotel bathroom while you were trying to work out how to use them.  Bill decided halfway through that holiday that he would not battle with those showers any more. He got by, by washing himself in a little bit of water in the bath.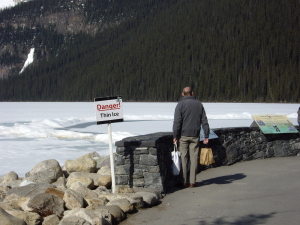 Bill, at Lake Louise, Canada, in May 2009.
Canada is a cold country, even in late spring and it didn't matter at all that Bill didn't shower for those couple of weeks.  It became more of a worry, however, when he continued his shower embargo on our arrival home to Brisbane.  He continued to wash but flatly refused to shower.  I have made a note that Bill did not shower from August 2009 to January 2010.
Then, in that January, Bill mowed the lawn and his legs got really dirty.
"Do you want to have a shower?" I asked.
"How will I do that?" he answered.
"I'll help you," I replied.
Then I realised, as I went through the procedure of helping him, that he could no longer work the taps, that he couldn't tell which was hot and which was cold, that the symbols "C" and "H" had no meaning for him any more and that, once the water was running, he had no idea how to adjust the taps to keep the temperature and the pressure constant.  And, when I put the cake of soap in his hand and he lathered it, tentatively, on his body, he asked inquiringly:
"Is this how you do it?"
That first shower in January 2010, after five months of no showering, was a sight to see.  The dead skin cells just rolled off his legs.  Little rolls of skin, and sometimes bigger rolls, covered the floor of the shower recess and, as he was drying himself, the floor of the bathroom.  When he had finished, I had to get the vacuum cleaner out to clean up the mess.