Blog 23: The Man in the Mirror (Pt 1)
You will understand, by now, that the loss of brainpower that Bill sustained, particularly over 2009 and 2010, fell into two categories.  There was loss of competencies due to loss of memory, eg, the loss of language and the loss of the ability to measure length.  But then, there was that other deeper loss of brainpower that occurred either because his brain had "slipped", as happened during the Taipei incident, or because it had lost its "sense of time", as happened when he wanted to go, at noon, to his night-time Rotary meeting. These two latter occurred, I think, not only because of memory loss, but also because of an accompanying loss of perception.
There is another loss of brainpower that I want to tell you about that falls into this second category.  That loss was the loss of the ability to see a reflection as an image, rather than as a reality.  Remember how, in BLOG 10, I talked about the possibility that Bill could no longer think in the abstract?  I think that this loss could have been related to that and that Bill's brain could now only understand a "concrete" world.  I think that, in those days, in Bill's thinking, there was no comprehension of the "abstract" at all and, as a result, of the way reflections work.
I first came to understand that this was the case when we were walking up to the post box on the corner to post some letters.  On the way, we passed a set of two-metre high, smoke-coloured, glass gates.  At this particular time, as we passed, Bill stopped, waved at our reflected images, and called out:
"Hello!  You're a good one!  It's good to see you!"
After that, every time that we passed those gates, whether we were going to the post box or to the park, Bill would stop and chat.  Often, the little dog that belonged to the house would come to the gate while we were there and Bill would chat to him as well.  Bill would sometimes become so engrossed in the parleying that I would have trouble dragging him away.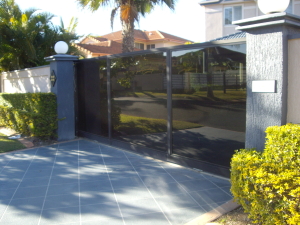 At about the same time, Bill started having conversations with his own reflection in our downstairs bathroom mirror. There would be chuckles and nods and "thumbs ups" and winks as the discussion proceeded and I would often hear him say, with great enthusiasm:
"Yeah! Yeah! You're right! Yeah!"
It sounded as if he was so, so happy to find someone who could understand what he was talking about and who could converse with him without any problems.
………………………………………
At one time, as he was having one of those jolly conversations, I went into the bathroom with him. He very quickly let me know that he did not appreciate my presence, grabbed me by the arm and pushed me back out the door again.
"Look!" he said, "You go out! You go out! I'm …."  And he looked in exasperation at his reflection and indicated that he was not at all pleased that I had interrupted their very important conversation.
"Oh!" he said to his reflection, after I had gone,  "I'm sorry! Where were we?"
 …………………………………
Another time, he pointed to his reflection in that mirror and said:
"No! I talked to him and he said that I shouldn't have a shower!"
 …………………………………
As time went on, as was the case with Bill's "sense of time", this inability to perceive that a reflection was an image, began to cause us trouble.  To begin with, it was little things that bothered us.  Bill, for example, stopped combing his hair.  As was my habit, I retaught him, urging him to focus on himself in the mirror as he combed.  But, as was always the way, the relearning only stayed with him for a little while and, in the end, I had to accept the fact that Bill's ability to comb his hair had gone.  It had gone, irrevocably and irreplaceably, into some unfathomable black hole, with his inability to recognise his reflection. The same thing happened with the cleaning of his teeth, grooming of facial hair, the trimming of his beard and the washing of his face. Because he could no longer use a mirror intelligently, all these things that he had done for himself for most of his life, fell by the wayside.  And I soon found out that that was only the half of it.