That was the first time that I had known Bill to have what I called a brain slip.
Since that time, he experienced others but they mostly happened at home and did not cause us too much stress.  On one occasion, for example, he had been a bit cross about something and then had fallen asleep in his recliner chair.  At twelve noon, I woke him up saying:
"Do you want to have some lunch?"
"What's that?" he asked,
"Well, it's lunch," I replied.  "It's the food you eat in the middle of the day."
"Where does it come from?" he continued.
"From Woolworths," I answered, wondering whether I should have said "from the farm."
Then he eyed the food very suspiciously, moved it around his plate with a fork, took it off his plate and put it on to his place mat ….. and eventually he ate the banana and only the banana.
Later, when I was washing up, he came to his senses, literally, and said:
"Oh, I know what it is now!  Oh, I'm sorry.  I shouldn't do that to you."
………………….
Brain slips always followed the same pattern.  They would start off with a fit of anger, the anger would be followed by a deep sleep, and then there would be the awakening into a reality that was not the reality that I was in.
The anger that Bill experienced in Taipei occurred because he did not want to travel any more.  Strangely enough, later bouts of anger often resulted from the fact that he did want to travel. On those occasions, he would rant and rave in order to make me understand that it was urgent that we get in the car to go somewhere.  Because he wouldn't be able to tell me where he wanted to go, or why, however, I would refuse to go with him and that would result, of course, in more ranting and raving.
Sometimes, though, I twigged that he wanted to go to Sydney for treatment.
"Someone down there might be able to help me," he would say.
But it was impossible to get him to understand that it was not convenient for me, at the time, to drop everything and travel to Sydney to find that Someone.
At other times, it seemed to me that he wanted to go and talk to Rotary friends who were part of the team that built classrooms in Papua New Guinea.  On one occasion, I got into the car with him and said:
"Drive. Take me where you want to go."
And he drove to the gates of their houses and then drove me home again.  I think that he wanted to make sure that they didn't go to Papua New Guinea without him.
Anger.   Sleep.   Awakening.
I have told you about the anger, and you understand, from the Taipei incident that the sleep that Bill would fall into was a deep, often coma-like sleep. Now, I want to tell you about the awakening.  You have seen how he woke in Taipei.  He woke from that sleep and he thought he was in Brisbane and that it was all right for him not to go.  He didn't want to cause trouble.  He thought that what he was doing was fine.
He said to me, the day after we arrived home:
"But we flew straight from there to here," meaning straight from Vancouver to Brisbane.
"No!" I said. "We flew from Vancouver to Taiwan and then took a second flight from Taiwan to Brisbane."
"Oh! That's not right!" he retorted.
Even then, two days later, his brain was still playing tricks on him and he was striving, with all his might, to straighten it out.
…………………
Over 2010 and 2011, the brain slips became more common and would often see Bill reduced to tears.
"My father died," he would sob, as if his heart was breaking. "My father died."
One day, the Blue Nurse witnessed this happening.
"When did Bill's father die?" the Blue Nurse asked me.
"In 1945," I answered, "When Bill was five.  His father died a prisoner of war in Sandakan, Borneo.  It was very stressful for the whole family."
"That would be right," the Blue Nurse replied. "Dementia is regressive. I think Bill is grieving."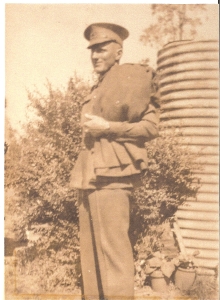 A photo of Bill's father taken in the early 1940′s before he went to war, never to return.
Later, probably well into 2011, Bill's mother became the object of his grief, as well.
"My father died," he would weep, "And then my mother ….."
And later still, it became obvious that he was grieving for himself.
"Can somebody help me?" he would cry. "I wish I could talk to people."
"I want to go home."
Though it was hard living through these times and seeing Bill so distressed, Bill always came out of these turns and got "back to work" again, doing whatever was important to him.  We both learnt to deal with this side of his condition.  We lived through each turn and then went on with living.