Blog 11: Calendar Daze (cont)
The next time the calendar became an issue was in August, 2009, when we planned a trip to Sydney to celebrate Bill's 70th birthday. This time, we were travelling within the month, so the problem of the blank spaces didn't arise.  By the time Bill had finished marking the calendar, however, this is how it looked: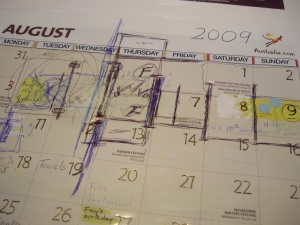 I have included this photo of the calendar because I want you to see the way Bill was reasoning at the time.  In the first instance, as he looked, he took some time to comprehend the fact that we couldn't leave on the Tuesday (04/09).  I had a hair appointment on that day and, because he couldn't read any more, it took a while for my calendar note, "Fay's Hair", to sink in.  Once he realised the situation, Tuesday 4th was crossed out several times ….. not in anger ….. but to help him understand and remember.
Having comprehended that, he then determined that we could leave on the Thursday (06/09). That's why the square for that Thursday is inked so heavily on both sides. The process of inking the sides of the square helped him understand that this was the day that we would leave.
Bill worried, though, that we might not be able to make it down from Brisbane to Sydney in that one day.
"We could overnight at Kempsey," I suggested.  "We could pull up at a motel and sleep there for the night and then travel on again on the Friday."
But Bill wouldn't hear of stopping overnight. Once he started driving, he liked to keep on driving.  It was always that way with Bill.
"Well," I continued, "We could leave at four in the morning, if you like.  That should get us a fair way down before we hit any traffic."
"Yes!  We could do that," he agreed, "but we need a bit more.  Maybe …. Maybe we could take a bit from here," he said, drawing that heavy, black, perpendicular line across the square that belongs to Friday 7th.
"And we could get a bit more from here, too," he added enthusiastically, as he extended, upwards, the pillars of ink that had been drawn on either side of Thursday.
You can imagine my puzzlement when he kept on drawing. Those lines went up and across, up and across, until he had completely surrounded the word Thursday, that was at the top of the column.
But that wasn't the end of it.  Bill was on a roll.
"And we could take a bit more from here," he exclaimed, smiling smugly and extending the lines downwards into the square that belonged to Thursday 13th.
"That should work well," he concluded, pleased with himself for sorting it all out.
"Good," I said, with a slightly heavy heart.  "We'll leave on Thursday 6th at 4am."
……………………………………….
It hit me, as I took part in this discussion, that Bill could no longer think in the abstract.  He could only think in the concrete, as do most five-year-olds.  If you say to a five-year-old: "You'll have to pull your socks up!" the five-year-old will invariably bend down and pull his socks up. He does not perceive, as adults do, that you are talking about his overall performance at school or behaviour in the playground. So it was with Bill. Bill actually believed, as he drew those lines, upwards and downwards and over Friday 7th, that he was adding hours to our proposed starting day.  It did not even cross my mind at the time, and Bill probably wouldn't have taken too kindly to my testing him, but my guess is, that if, at that time, I had said to him: "What's two plus three?" he would not have been able to give me an answer. If, however, I had taken the trouble to put two blocks in front of him and then another three and asked "How many altogether?" he might have answered: "Five."
………………………………………….
We had a most enjoyable 70th birthday party, with very few hitches.  Bill was in his element and we were all glad that we had gone to the trouble of turning this birthday into a celebration.